Curtis Receives Fellow of the College Award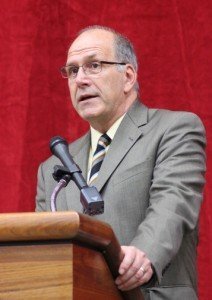 During the Alpena Community College (ACC) commencement on 5 May 2014 Kevin Curtis, Besser President and CEO was presented the Fellow of the College Award from ACC President Dr. Joynton.
In particular, Dr. Joynton stated, "Kevin who, through a sense of purpose, community concern and leadership, has enriched the educational, cultural and economic lives of the citizens of Northeast Michigan.
As Chief Executive Officer of Besser, an employee-owned Company, you have led the business through challenging economic times while promoting education and maintaining a mutually beneficial relationship with Alpena Community College. You have served on the World Center for Concrete Technology's Partners Council leadership team, the National Science Foundation advisory committee, and supported the Concrete Technology program nationwide. In the concrete industry, you provide influential leadership on the national and international level through your involvement with the National Concrete Masonry Association.
Through Besser Company you continue to support Blockmakers training courses at the World Center for Concrete Technology and fund the Anna and Jesse Besser Awards to outstanding ACC students. You were instrumental in establishing the Besser Company Scholarship Fund with the ACC Foundation which provides five $500 scholarships each year. Because of your enrichment of the educational, cultural, and economic lives of the citizens of Northeast Michigan, Alpena Community College covers upon you the title of Fellow of the College."
Curtis then spoke to the audience stating how much he appreciated the positive recognition for Besser Company and accepted the recognition on behalf of Besser Company employees.  Without the hard work and success of Besser employees we would not be able to continue to support the various ACC programs.  He thanked Dr. Joynton and Dr. MacMaster for their continued support of Besser and acknowledged ACC is a key part of Besser Company's success.