Getting To Know Your Customer Service Team: Gerri Mulka
After reading the list of company departments that Gerri Mulka has been part of you'll understand why this 37 year veteran is so knowledgeable about all things Besser. Her career has provided her with the opportunity to work throughout the company – in the steno pool, credit, shipping, inventory control, international/domestic sales and now as a representative in the customer service department.
Each department provided Gerri with a new perspective about Besser. She learned a tremendous amount about our equipment and its operation, practices/procedures/systems in the office and in the manufacturing area, customers and the industry during her varied roles. Today she relies on all of this knowledge, co-workers and an extensive network of external resources to efficiently assist customers on a daily basis.
She embraces challenges such as handling critical ship today orders and researching and identifying parts on vintage machines. Gerri carries her unofficial title as "resident historian" with pride, just like the pride she feels for the company every day she comes into work. Gerri commented, "It's rewarding to work for a company whose products I believe so strongly in –  I'm confident that Besser is the best available in the industry,"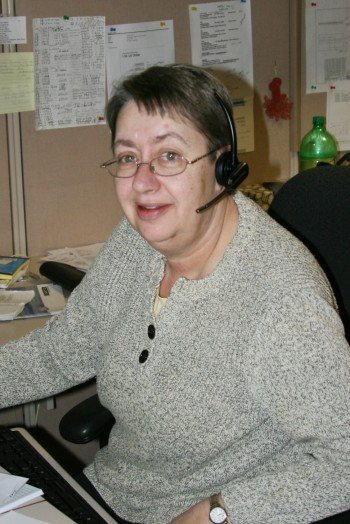 She developed her Midwestern work ethic and resourcefulness growing up on a multi-generational family farm in Hawks, a tiny town north of Alpena. At a very young age she realized the importance of working together to achieve a common goal. This background suits her well as the member of the customer service team; her primary responsibility is interacting with producers and Besser representatives and agents located outside the United States.
Family is extremely important to Gerri and her husband Greg, Sr.  They have three adult children and two grandchildren. The entire family will gather this summer to celebrate her youngest daughter Lianna's wedding to Kyle. Their son Greg, Jr. and his wife Donna and their children, Rosie, 6 and Alex, 2 will travel from St. Charles, Missouri for the festivities while their daughter Katie will be heading north from metro Detroit.
Gerri is talented woman who freely shares her gifts throughout the community and her church where she plays the organ and serves on numerous committees. She also sits on the board of the Economic Development Commission /Community Development Commission for Presque Isle County. While her children were growing up she served 13 years on the Alpena Babe Ruth Baseball Board  and was active in many booster clubs.  Her hobbies include baking, canning, camping, playing cards, reading and skyping with her grandkids.
We're glad that Gerri has spent her career with Besser and that our customers benefit from her knowledge and big heart.  You can reach Gerri at +1.989.354.1043 and gmulka@besser.com.