Houston Hosts The Precast Show
Held in Houston, Texas, 13-15 February 2014, The Precast Show attracted visitors from throughout North America and abroad. The event gave attendees the opportunity to participate in a variety of educational sessions, spend time on the trade show floor and network with peers.
As the economy improves producers need to be as efficient and educated as possible. The sessions offered by the American Concrete Pipe Association (ACPA), the National Precast Concrete Association (NPCA) and The Precast Show provided courses to benefit everyone. Prior to The Precast Show the ACPA hosted its Annual Pipe School. The sessions, taught by industry professionals, including Grant Fluent, Customer Service & Technical Support Representative for Besser, drew 80 more people than in 2013. NPCA's Production & Quality School, a multi-year program, was well attended and hit a milestone with 20 Master Precasters graduating.
The Besser booth showcased our pipe and precast equipment, introduced curing and our relationship with autocade wet cast equipment to visitors.  The Besser team working the show included Denny Anderson, Denny "Pelley" Pelleymounter, Gary Ericson, Russ Lane, Grant Fluent, Travis Dye, Dave Smith, Doug Rozema and Terri Rondeau.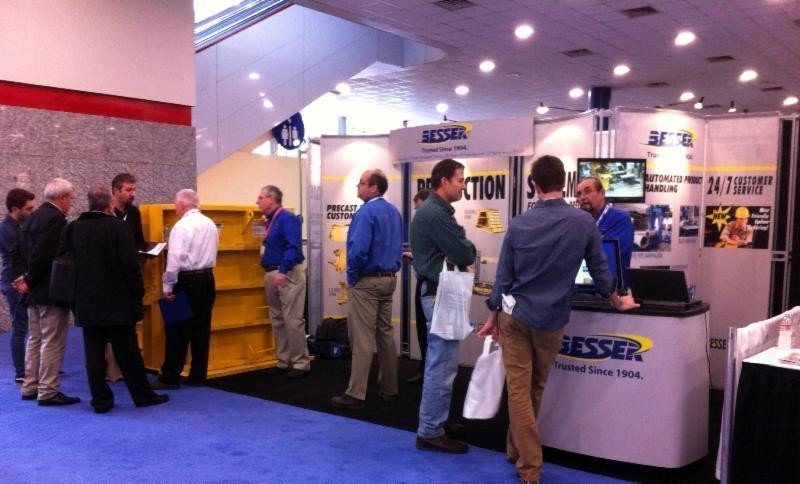 Related News
At a joint event with NPCA and the Prestressed Concrete Institute (PCI) it was formally announced that the two organizations will work together on certification beginning now and the trade show starting in 2016. PCI will add 1000 attendees to the show and many exhibitors. They join ACPA who has been a sponsor of The Precast Show since 1995.