Remote Display and Control
In instances when the vapor generator or heating equipment is located in an area with limited access, Besser recommends the use of a remote display and/or control panel.
Besser offers three standard solutions but can customize a solution to fit any application.
Start-Stop Control
Start-Stop Control is a simple solution to access a vapor generator in a non-accessible area. It consists of a panel with green "Start" and red "Stop" push buttons with identification markings.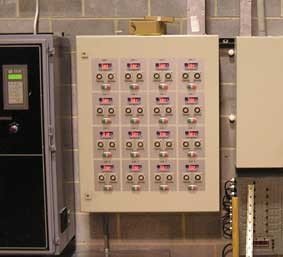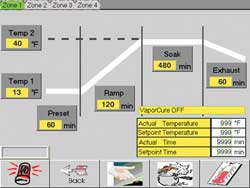 Touch Screen Colour Graphic Interface
Standard on the Besser Vapor Generators and may be added with PLC Curing Control System
This screen operates in conjunction with the Allen-Bradley touch screen and SLC central processor
The interface features colour graphics and a series of screens that display information about the curing process, allow the user to change time, humidity, temperature, circulation and exhaust settings, operate doors and interface with transport equipment
With this system, experience has proven that operator training is reduced by at least 50 percent and understanding of the curing process is dramatically increased
PC Graphic User Interface
Operates on the concrete producer's existing personal computer and is connected with the Besser
Company supplied Allen-Bradley SLC processor
The interface displays graphics and screens that are similar to the Touch Screen Colour Graphic User Interface
Icons are activated with PC mouse
This software can be used with Besser Company curing data recording and storage software