2023 Besser Pipe Scholarship Recipients Announced
On 6 February, the 2023 recipients of the $2,500 Besser Pipe Scholarships were announced. During the Opening Session of the American Concrete Pipe Association's 2023 Pipe School and Trade Show, Scott Kennedy, Vice President of Pipe and Precast, and Kim Spahn, President of ACPA's Research and Education Foundation, teamed up to announce the recipients. Again, this year, the selection committee felt two students were equally deserving, so two scholarships were funded, one scholarship by Besser Company and the other by the ACPA Foundation.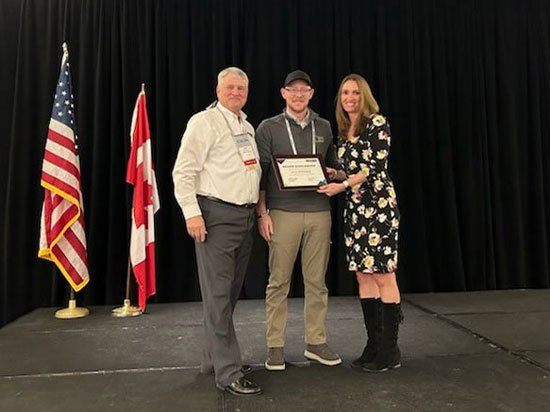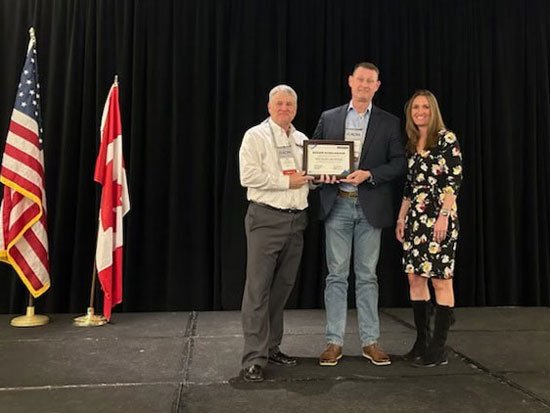 Video acceptances from Ava and Michael were shown during the presentation. Accepting their awards from Scott Kennedy and Kim Spahn were Nick Paulson (center) from Besser, for Ava and to Ed Eagle, (center) from CP&P, for Michael.
The first recipient was Ava Wesner. Ava is a senior at Posen High School, in Posen, Michigan, carries a 4.0 GPA, and is dual enrolled at a local community college. She will be attending a Michigan college this fall to study environmental engineering so that she can fulfill her goal to, "positively impact the planet." Ava will be the second generation in her family involved in the concrete products industry; her father, Robert Wesner, supports the industry as a CNC machinist at Besser's Alpena location.
The second recipient was Michael McDole. Michael is employed by ACPA producer member, CP&P in Ashland, Virginia. He is attending Brightpoint Community College and will be transferring to Old Dominion to earn a degree in engineering. His ultimate goal is to earn a PE certification and apply his knowledge to engineer designs for concrete structures that will serve the nation's infrastructure needs.
Besser Company's commitment to education and training was introduced into our culture by our founder, Jesse Besser. Throughout the following decades, it was embraced by company leaders including Jim Park, Kevin Curtis, Jon Dannenberg, Joe Pelchat, and countless others. They all recognized that a trained workforce is the key to the production of high-quality concrete products. Through their foresight, ingenuity, dedication, and leadership, Besser has earned a reputation as the industry's leading provider of impactful training. This training is skillfully delivered during Pipe Schools held in Sioux City, Iowa, our Blockmakers® Workshop courses at the World Center for Concrete Technology in Alpena, Michigan, at onsite courses in producers' facilities, and as part of ACPA's annual Pipe School education.
Kim Spahn, ACPA shared, "In addition to the positive impact the scholarship has on the students selected, it also provides an introduction to students across North America about the incredible career opportunities in the concrete pipe industry. We're grateful to the employee-owners of Besser Company for their unwavering support of the ACPA and our industry."
Applications will be available at concretepipe.org this summer for students interested in applying for the 2024 scholarship.