The ICON EXPO, held 9-10 February, is the only machinery and equipment show completely dedicated to the manufactured concrete masonry and hardscape industry.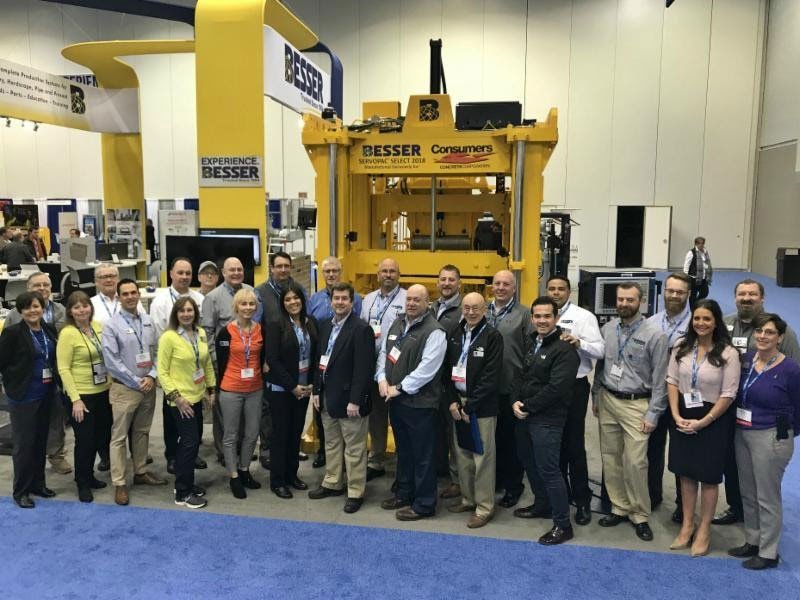 Held in Indianapolis, Indiana, the highlight of our 3,000 square foot booth was without a doubt the Servopac Select. This machine boldly greeted attendees as soon as they stepped foot onto the show floor. The Select is the newest member of the Servopac Family of Machines with quick mold and height changes similar to the Servopac Classic.
This particular Servopac was sold to Consumers Concrete Corporation in Wyoming, Michigan. We were pleased to welcome a large group of Consumers staff to our booth who traveled to Indy to get a sneak peek of their new machine (see top photo). They're all excited to begin training on this machine in the near future.
Also on display was one of our vapor generators (sold to our customer, Tensolite SA from Los Pocitos, Argentina), our newly designed Easy blend batching system panel (shown courtesy of Acme Building Brands in Dallas, Texas), and two robots (supplied by our newest Strategic Alliance Partner, Slab Innovation). The robot was also a show-stopper as it provided attendees a running glimpse at what's possible when robots are introduced into the concrete products production environment. A small Sicoma mixer rounded out the equipment displayed in the booth.
Alliance partners, Aircrete Europe, BlockUp, ECOncrete, Omni Block, and PaveDrain displayed products designed to expand producers' product lines. Their products all generated a lot of interest from attendees seeking to enter new markets or provide new products to current markets.
Twenty-minute "mini" training sessions held on the ABCs of Curing, 5 Tips to Prevent Downtime, Top 10 Benefits of ASV/SMD, and Predictive Maintenance for Today, were presented to attendees in a compact training area within the booth by our own Ron Scherer.
We were also proud to have a virtual plant tour of Dagostino Building Products' new Servopac Select plant as a featured item of the show. Duane Rondeau moderated the discussion and was joined on stage by Jeff Orvis, Dagostino's Senior Supervisor/Operations Manager.
The Besser team was on their feet from morning until night, working with our customers, our industry partners, and associations to ensure Besser was properly represented as a quality leader within the concrete products industry. Many thanks to your valued customers for making this show an outstanding success!