The Precast Show 2018 was held at the Colorado Convention Center in Denver, with more than 4,500 attendees. This show is the largest annual precast-specific trade show in the industry! The Besser booth was filled with precasters from North America and abroad looking to gain a competitive edge in their operations.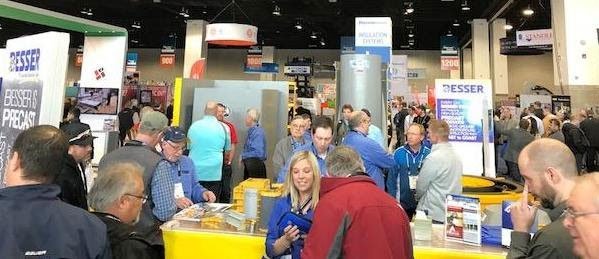 Visitors to our booth had the opportunity to look at our five precast forms, rearrange the pieces of the adjustable box culvert model, test drive the Easy Blend Batching System, learn about robotics from Slab Innovation and products from Aircrete Europe, and visit with the Besser team, which included Denny Anderson, Brian Christle, Travis Dye, Bob Frisby, Terri Grulke, Tom Howell, Jeff Kern, Mike Reed, and Ryan and Melodi Suszek, along with Benoit Slavinski from Slab and Cornieils Tavenier from Aircrete.
We displayed concentric and eccentric cone forms, a 48 x 48 X 72 Utility Box Form, along with two other forms making their debut in Denver – a new style 72″ transition form, designed with thinner walls for pouring with polymer and a 36″ sloped pipe form that saves producers from manually cutting concrete when making a sloped end section. All forms in our booth were previously sold to Cemcast Pipe & Precast, American Concrete, Copeland Precast, Primary Structures, and U.S. Composite Pipe.
Ryan Suszek, VP Pipe & Precast: "The enthusiasm from producers at the show was encouraging, and certainly representative of the momentum precast products continue to gain in infrastructure applications around the globe. Besser Company has never been more focused on the Precast industry. We are excited about the new solutions we are offering producers including our line of adjustable box culvert equipment, sloped end sections, and custom designed forms for any application. All of which bring Besser quality and unmatched value. Besser IS Precast."
Denny Anderson, Precast Sales Manager, added, "It's exciting to see existing customers growing their businesses as well as new precast operations opening up across the country."
Ty Gable, President of the National Precast Concrete Association, which sponsors the event with the Precast/Prestressed Concrete Institute, noted that attendance and growth of this show signaled that the industry is healthy and headed in the right direction. "Last year, we saw optimism and enthusiasm, and we knew there was some pent-up demand for new equipment and new technology," Gable said. "This year, that translated into more purchases and serious product comparisons on the trade show floor. I heard from many exhibitors that they sold more this year than any time since before the Great Recession 10 years ago."
We're looking forward to next year's show being even better, which will be held at the Kentucky International Center in Louisville.