World Center for Concrete Technology (WCCT)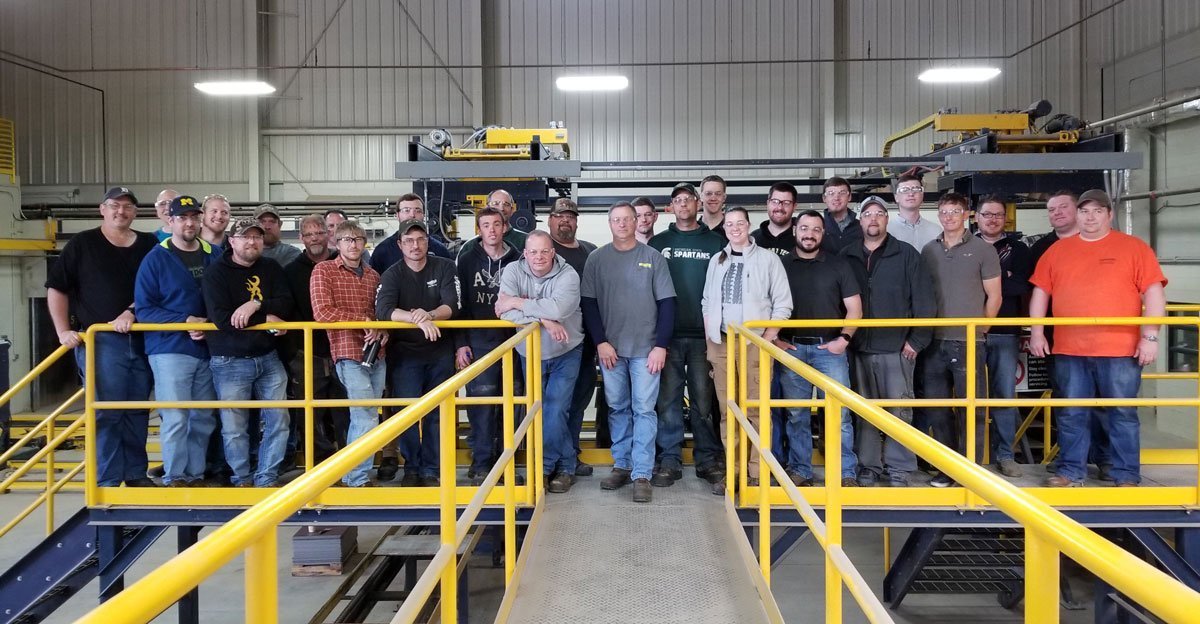 A group of over thirty Besser employees, largely engineers, gathered in Alpena last month for group training at the World Center for Concrete Technology (WCCT). Tony Haight, Dave Fox, Alex Guzman, Travis Witulski, Chris O'Bryan, Nathan Latuszek, Kurtis Schwaiger, Mickey Stentoumis, Josh Kole, Bob Raygoza, Reggie McKelvy, Davis Konynenbelt, Clay Cross, Angela Schwaiger (contractor), Mike Reed (Sales), and Chris Luetzow (Customer Service) teamed up to learn about the basics of machine operation, which included functionality of timers, cams, feed vs finish time, pallet timing, mold and height changes, vibration, and machine-set up.
Doug Cooper, Al Tracy, Nate Oliver, Mike Smith, Matt Hoos, Cody Rollf, Todd Ballard, Shawn Lobert, and Andy Smigelski, Rob Barbato, Scott Jones, Zac Adrian, Mike Nowaczewski, (Dept 50 and 60, manufacturing) also joined the group during the Basics of Machine Operations classroom instruction and were also able to watch the machine run. Department 50 personnel interacts quite closely with our engineering team during the final assembly and testing of our Capital equipment, so this was an excellent opportunity to connect the two groups together for training.
An Introduction to Concrete Technology (mix design and sequencing, curing fundamentals, and functions of LSCs, cubers, and splitters) was given on day two of the training. The session ended with an Operations Boot Camp and round table discussion to cover any questions about the training. Doug Rozema, Ron Gunderman, Bruce Muenchow, and also Fred Jacobs of Consumer's Concrete contributed to the instruction of the class.
Employees who are able to see our equipment in action and put together the "why" behind what we do each day will only improve the way we work together and the way we treat our customers. Only by truly understanding the challenges they face can we help make them better.